We are pleased to welcome back the Richard Livingston Awards for 2023, in memory of our treasured colleague and friend Richard Livingston. The awards launched in 2022 and celebrate our employees who have progressed to enhance their Excellence in Professional Development and / or knowledge and leadership in the workplace.
The awards opened in January inviting employees across the Group to apply or nominate a colleague they believe are deserving of the award. There was a fantastic response with 10 applications / nominations being shortlisted for this prestigious award.
Those shortlisted applications included the following;
Details of the Shortlisted Applications / Nominations: -
Andrea O'Kane, Digital Marketing Manager, Stroll – nominated for supporting professional development within her team
Kieran Wilson, Project Coordinator, Prestige Underwriting - undertaking a Masters Degree (MSc) in Software Development conversion course at QUB as well as the CII
Sharon Reid, Group Training Manager, Prestige Underwriting - undertaking the Accredited Product Adviser (APA) qualification via the Irish Insurance Institute
James O'Hara, Senior Manager, AbbeyAutoline - currently enrolled in the Fellowship (FCII) programme with the CII
Lizzy Watt, Group Compliance Advisor, PIH - completed her Advanced Diploma with the Chartered Insurance Institute
Ashleigh White, Assistant Manager, AbbeyAutoline – undertaking Cert CII
Diane Johnston, Head of SME, AbbeyAutoline – nominated for supporting professional development within her team
Gemma Laid, Senior Software Developer, Covernet - completed her Cert CII examinations and received the Peter Eakin award in May 2022 for finishing first place in Northern Ireland
Karen Sinclair, Group Compliance Manager, PIH - achieved her Professional Certificate in Compliance and is working towards her Diploma
Santa Kleine, Customer Success Associate, Stroll - undertaking her CII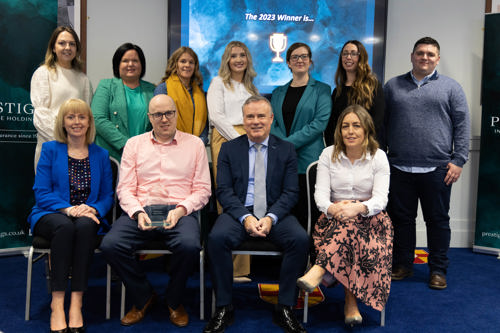 Following an independent judging process, with the panel being really impressed by the standard of each application, they were delighted to welcome all shortlisted candidates to a special recognition lunch award ceremony at Ulster Rugby's Kingspan Stadium on Thursday 9th March, hosted by Trevor Shaw, Group CEO. Other guests included those who nominated a colleague, programme mentors and 2022's Richard Livingston winner.
Richard Livingston's wife Sarah kindly provided the following words of gratitude which we shared at the ceremony, 'Richard was a strong advocate of lifelong learning, whether it be academic, vocational or for general interest and that he would be so proud that he is remembered in such a way'.
During the ceremony a summary of each of the shortlisted applications / nominations was presented and the winning entry announced bring the event to a close.
We are delighted to confirm the winner of the Richard Livingston 2023 winner is James O'Hara, Senior Manager, AbbeyAutoline!  James was presented with their award by 2022's winner, Carl McComb and Trevor Shaw.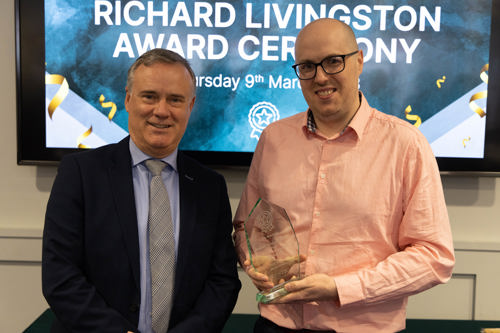 The judges selected this as the winning entry as, not only is James undertaking advanced studies, he is also a fantastic mentor and support for the development of others in his team and the wider business. He has demonstrated his commitment to professional development through his role in the Academy, and his determination to use his studies to improve the business as well as customer experience is laudable. He is truly a role model for others.
We would like to congratulate James on this achievement and would also like to congratulate all the shortlisted applicants / nominees, as it was evident from the applications received, their passion for continuing professional development, the importance to them individually as well as to the business and each of the nominees are also regarded as role models within their teams and business areas.      
This is a fitting tribute to Richard and his legacy and is also a fantastic way to recognise the outstanding individual achievements and positive impact that continuing professional educational development can have for staff and the business.
The award ceremony was a wonderful event to celebrate all shortlisted nominates and celebrate their continuous hard work and dedication to their professional careers and team. Congratulations once again to our 2023 Shortlisted and Winning Entries and James.